BRIEF


The goal of this project was to create a surreal movie poster advertising the Chicago Underground Film Festival. Inspiration for the poster came from the festival's theme, "Something Blue." The final image needed to be photographic, with at least 8 objects incorporated into the design.

PROCESS


After receiving the theme "Something Blue," I immediately started brainstorming blue objects that were easily accessible to me. My mind quickly went to my mother's set of blue, antique dishes. The notion of antiquity provided me even more inspiration, and I began envisioning traditional Victorian garb.
SOLUTION


Because this project had a two week time constraint, I fully embraced the Victorian aesthetic. Next came the obstacle of deciding how a Victorian atmosphere could become surreal. I wanted to stay true to the time period, so I decided to play into the idea of a haunting. Some of the best ghost stories are centuries old, so it seemed fitting that the two ideas would mesh well together. The concept of a haunted portrait was mysterious enough to make viewers want to know more, which was the project's ultimate goal.


BRIEF

This project entailed art directing, photographing, and designing a three spread couture fashion magazine. I was given the responsibility of outfit creation, model casting, sets assembly, and layout design. The magazine was to be inspired by any narrative of choice—so I decided on Netflix's Sex Education—a poppy, raunchy, teen comedy. Specifically, I chose to follow the love story of the show's leads, Maeve and Otis. It was important for my models to capture the essence of these characters as much as possible, from physical looks to personality.

MAEVE

In the show, Maeve's character is extremely edgy, but misunderstood. While she's a loner who raised herself, Maeve is extremely intelligent and always achieves the highest grades in the class. She expresses herself through a dark fashion sense, so when choosing her look, I opted for large, extravagant pieces. Maeve's final outfit consisted of a black tulle skirt and matching neck ruffle, topped off with an outlandish pink leopard print jacket. These pieces spoke to both Maeve's hard side and her soft side, as it combined feminine fabrics with bold colors and prints.
OTIS

In contrast, Otis's character is lively, colorful, and soft. Though he struggles controlling his anger, Otis always means well, and just wants everyone around him to be happy. To bring Otis to life, I decided to create an androgenous look, conveying both his femininity and his masculinity. To achieve this balance, I paired a bright, tulle skirt with a structured blazer. Then, I added quirk by accessorizing the final look with a crossbody purse, chunky jewelry, and platform creepers.

DESK


After finalizing the wardrobe, I shifted my attention to the set. And thanks to my parents, I was lucky enough to get my hands on a school desk. Four cans of pink spray paint and a touch of vandalism later, and the nostalgic torture device was transformed into a high-fashion prop. The newly renovated desk was my only prop because the core focus of the magazine needed to be the clothing. However, I did end up gravitating towards a punchy backdrop.
BACKDROP


When my 10 foot by 10 foot neon curtains finally arrived in the mail a week late, it was game on. Using curtains as a backdrop allowed me to create a more dynamic background, but the draped texture still wasn't enough. So I decided to create the illusion of floating homework assignments. Through trial and error, I discovered a spool of fishing line and a stack of notebook paper were just what I needed to get the job done.

LAYOUT

The additional elements of my set design heavily influenced my magazine's layout. Specifically, the notebook paper inspired me to treat my magazine like a student's journal. From desperate love notes to silly doodles, I aimed to tell the highschool love story of Maeve and Otis. I wanted each spread to feel like a note passed across a classroom—imagining sweaty hands crumpling the secret message with haste and discretion. In achieving this, I gathered up all my old notebooks and started tearing out sheets, photographing them, crumpling them up, and photographing some more. My sketch book was filled with handwritten notes and mediocre doodles, as I was determined to emulate the art style of a bored highschooler.




SOLUTION

And after about two weeks of layout design and photo editing, my magazine finally came together. In the end, I was able to leave this project with a greater appreciation of the work that goes into a seemingly simple photoshoot, in addition to a college experience that I'll never forget.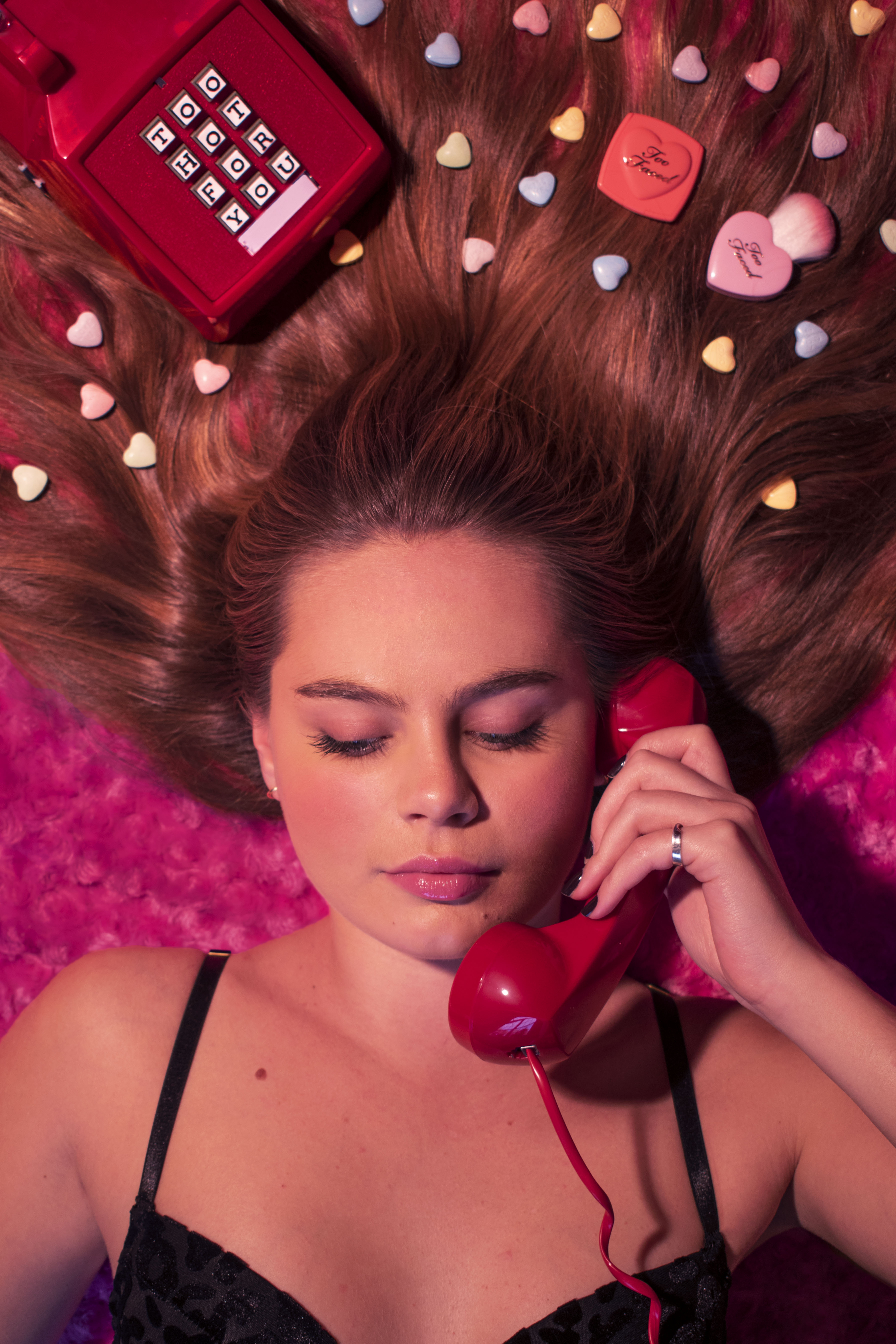 BRIEF

This project called for a social media campaign, marketing a product of choice to a niche audience. The final deliverable needed to be a series of three images, each one using wordplay to advertise the product. After receiving the project brief, I was inspired by Too Faced Love Flush, a cosmetic blush designed to make women look flush with love.

SOLUTION

Research showed that this product's goal is to make women look in love, so I decided the campaign's target audience should be single, independent women. Most love-themed products aren't aimed at single women, so switching up the audience was a great way to draw in new customers. I decided to use comical wordplay to connect the audience to the product, and in turn make each customer feel just as confident as the model in the ad.



BRIEF

The experimental portrait was the first project of my Junior year. The goal of this project was to create an image that causes a visceral reaction. Some challenges of this assignment is that our images had to include a randomly assigned model, and we weren't allowed to photoshop the final product. Additionally, we were working with limited resources due to COVID-19 restrictions. But these limitations pushed me to be more creative, further developing my problem solving skills. My concept was heavily based around how I was feeling at the time: everything was changing, the future was uncertain, and I felt a strange disconnect between my present self and my past self. I wanted to create an image that was just as confusing and nostalgic as how I felt. Later on, the image was adapted as a book cover for Helena Fox's, How It Feels to Float.

SOLUTION

Since I'm a commuter living at home, I was able to dig through all of my baby bins that my mom had packed away years ago. Seeing my childhood artifacts brought me a lot of inspiration, so I decided to recreate my childhood bedroom in the forest behind my house. Everyday, for two weeks, I carried my bed, paintings, chairs, and knick knacks into the woods, hoping to capture that perfect dream-like moment. And with the help of my dad, I was able to hang paintings 50 feet in the air, adding another layer of depth to the image. I pushed the childhood concept even further by dressing my model as a little girl. I wanted her to look as small as possible, so I crafted an enormous hair bow and experimented with low camera angles. The end result allowed the viewer to feel as though they had just opened the door to a strange bedroom, feeling just as lost as I did.




BRIEF

This project entailed creating a 30 page quarterly publication. The topic of the publcation was student's choice, however, the final mag needed to be sustainability related. My father is an English teacher, so I've always been passionate about creative writing. I decided a literary publication would be a great way to fill 30 pages with inspiring content.





PROCESS

I started gathering up and editing every poem and short story I had ever written. All of the creative writing in the final publication is my own, which is pretty fun beacuse I had the opportunity to take inspiration from my own work, and push it even further into imagery.

Ink is a recurring motif in The Well. I bought a fishtank and spent hours dropping ink into water until I finally captured a series of diverse photos. Using the ink as framework for my spreads developed a visual fluidity that matched my writing. After photographing the ink, I took a couple other photos to pair with several of my stories, in addition to product photography of the Bombai Ink itself.

SOLUTION

This is definitely the most meaningful project I've ever worked on, as most of the poems featured are extremely personal to me. But each poem touches on topics that need to be talked about, from depression to global warming, so it was very gratifying to be able to share these stories with the world.